In 2011, an elementary school in St. James, MO suspected that a local contractor did not properly install a rolled vinyl surface in the school's multipurpose room. Subsequently, the school contacted SignaSports™ to request that a Signature representative inspect the quality of the installation. As a manufacturer, Signature was happy to help and we promptly coordinated a site visit.
Results of the inspection were summarized by a Signature representative and submitted to the school for its review. During the inspection, Signature noticed two flaws that seriously compromised the durability and performance of the rolled vinyl athletic surface. First, it was evident that the contractor utilized a grooving tool that did not match the thickness of the weld rod, which prevented the weld rods from properly binding the material together. Second, the quality of the welding was below Signature's standard due to the use of outdated equipment and/or a lack of experience in both automatic and manual welding.
Heat welding is a skilled trade and considered the most difficult aspect of installing rolled vinyl. Not every contractor is qualified to complete this scope of work and, although contractors may have extensive experience in the flooring industry, they may not have any practice with heat welding. Unfortunately for the school, the improper welds delayed the project's overall completion date and resulted in additional material and labor costs. Nevertheless, the school was happy to have received an impartial, professional opinion regarding the quality of the installation which allowed them to have the defective work corrected. Based on the expertise and experience of Signature's tradesman, the school recommended Signature Sports to complete the repair.
Just remember that not all contractors are created equal.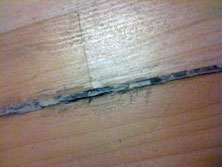 Improper welding can compromise the durability and performance of the entire floor